Volunteer, where you receive as much as you give
While summer staff are hired to serve through the full summer, summer volunteers give two weeks or more of their time to help support Fort's ministry. Students, families and retired couples are common members of our summer volunteer teams serving at Family Camps, Youth Camps, and Summer Getaways.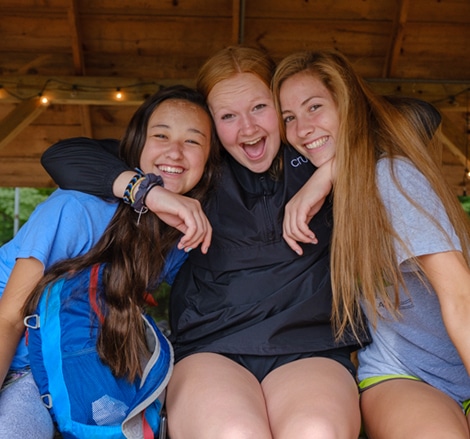 The Details
Summer Volunteers commit to a minimum of 2 weeks and up to 8 weeks of their summer serving at Fort! (Adults 22+ and family volunteers can opt to serve for just one week.) There is no cost to volunteer and room and board is provided.
Qualifications
Faith in Jesus Christ and a desire to grow closer to God
Desire to impact other people for the Kingdom of God
Will embrace and live out Fort's values
Ability to work hard and flexibility to accommodate changes
Must be 15 years or older
Responsibilities
Volunteers fulfill the vital role of supporting the leader of each area in executing their responsibilities. Additional or differentiating qualifications and responsibilities for volunteers are listed below. Please understand that some positions will be asked to play a dual role to support other teams (ex: coffee shop volunteers will also support children's ministry).
Positions Available
Position
Additional Requirements
Accommodations Crew
none
Assistant Counselor (for youth camps)
At least 16 years or older preferred
CampGrounds (Coffee Shop) Crew
At least 16 years of age; 18 or older preferred
May also be asked to serve in Children's Ministry
Canteen Crew
May also be asked to serve in Children's Ministry
Children's Ministry Assistant
Not a full-time role: Will be asked to support another team in addition to Children's Ministry
Craft Shop Crew
May also be asked to serve in Children's Ministry
Dish Crew
none
Kitchen Crew (Assistant Cook)
At least 16 years or older preferred
Lifeguard
At least 16 years of age, older preferable
Current ARC, YMCA, USLA, or Ellis & Associates Lifeguard Training, including CPR for the Professional Rescuer and First Aid & AED
May also be asked to serve in Children's Ministry
Maintenance Crew
none
Nature Center Assistant
none
Nurse (for youth camps)
Lives at Adventure Outpost in Infirmary (except for Step Up: stays in Payton's Place Infirmary)
Riflery Assistant
Must be at least 18 years or older
May be asked to serve in additional roles
Wrangler / Stable Hand
Must be 15 or older to serve as a wrangler
Must be able to mount/dismount a horse, without assistance from any person or device
Able to lift 35 lbs. to a horse's back (saddle) and reach up to 7 ft (to bridle a horse); enjoys physical labor
13-14 year olds may serve as Stable Hands while living with a parent/guardian (contact Staff & Volunteer Coordinator for more details)