Come serve for a weekend!
When the leaves change and the snow flies, Project Serve volunteers are here to serve! Project Serve is the name for all who serve during the fall and winter seasons. They ensure weekend camps and group retreats run smoothly. Youth groups, families, young adults, and individuals volunteer their time (normally a Thursday/Friday into Sunday) to serve others at Fort. When not serving, volunteers are encouraged to enjoy all that camp has to offer! Join this opportunity for you or your group to develop community through service, recreation, and devotional time in God's Word.
Looking to serve in summer? Fort's summer staff and summer volunteers make certain summertime ministry is fully staffed to make an eternal difference each and every week.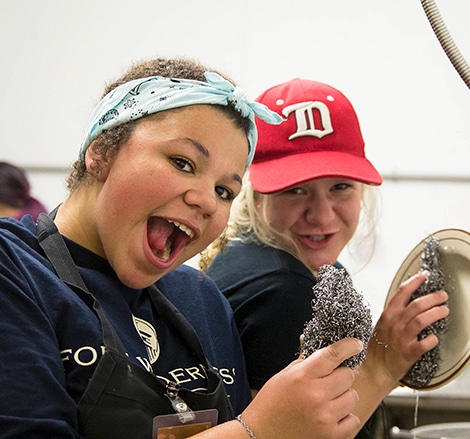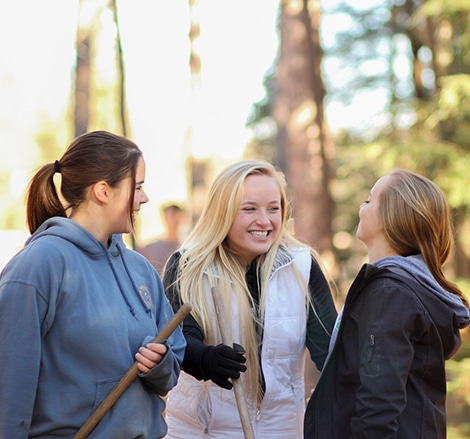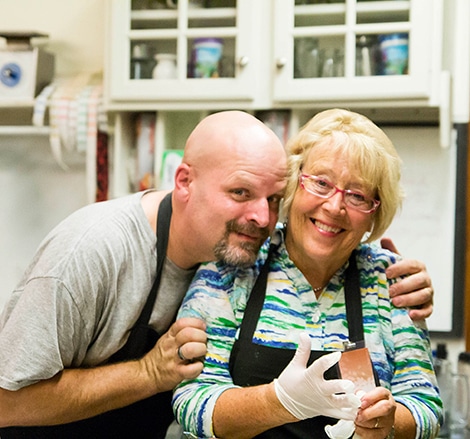 Things to know
We ask that you review these guidelines and expectations to be sure that serving is a good fit. These guidelines are for you, and for Fort – we want you to have a good experience serving, and we need to run camp well to impact lives for eternity! These guidelines ensure both happen well.
The Basics

Each Project Serve weekend starts either Thursday or Friday and runs through Sunday and is open to 20-30 individuals. There is no cost to volunteer; room and board are provided. You can volunteer as an individual, a group (one youth group in particular serves together multiple weekends every winter!), or as a family (if certain criteria are met – see below).
Working Hours

Typically, volunteers work 8-10 hours a day – depending on the area(s) you're assigned to serve you may work all the hours together (i.e. from 7:30-5 Stables) or your day may be broken-up into smaller shifts throughout the day (i.e. from 6:45-8am, 10:30-11am, 1:30-5:30pm Coffee Shop).
Non-Working Hours

When not assigned to work in an area, you are free to experience camp! We invite you to enjoy time in nature and experience the activities offered at Fort!
Housing & Accommodations

Most of our housing for volunteers is community orientated (i.e.: 10 women sharing a bunk room together) and we have limited housing available for small groups / family units. Sometimes this means the housing unit we have available requires using the communal shower/bathrooms (The Moonbeam). Reach out to Shannon if you have specific housing needs or questions.
Group Expectations

Depending on group size, your entire group may be assigned to serve in one area (this would allow you to be on the same schedule, working together and having breaks together) or multiple areas, the norm for larger groups. While you might have some down time as a group – you may not. Needs at camp change often. Assigned areas will depend on the needs of camp.
Family Expectations

Thank you for considering serving at Fort as a family. It's a joy to watch families connecting and serving – all while making kingdom impact! We can usually accommodate one family to serve per retreat. Meeting the requirements below allows for the weekend to be a win for your family and a win for Fort. Please reach out with questions or to check availability for a specific weekend.

-We require your family to have 2 people that are 15 years or older that can serve all shifts in the area you are assigned. 

-We require that at least 50% of your family serve full shifts. For example – if you are a family of 5 (2 parents, 3 kids) at least 3 of you able to work a full volunteer schedule each day.